Toyo Nut Product Quality Policy
We ensure that the businesses we deploy satisfy our customers while being sustainable for the company.
To achieve this, we continue to be a business entity with unsurpassed processing technologies that we continue to maintain, innovate and improve.
These technologies enable us to deploy our businesses in forms that are beneficial for our customers.
FSSC 22000 Certification
〈 Registration No. JSAF053 〉
We acquired certification of FSSC* 22000 which is a management system standard for practicing more reliable food safety management in July, 2017. FSSC 22000 is approved by GFSI (Global Food Safety Initiative) as a new scheme of food safety standard with ISO 22000 (food safety management system) added with ISO/TS22002-1 (general specification for food manufacturing).
* The Foundation of Food Safety Certification (FSSC)
Quality Management to Underpin the Safety
and Assurance of Toyo Nut Products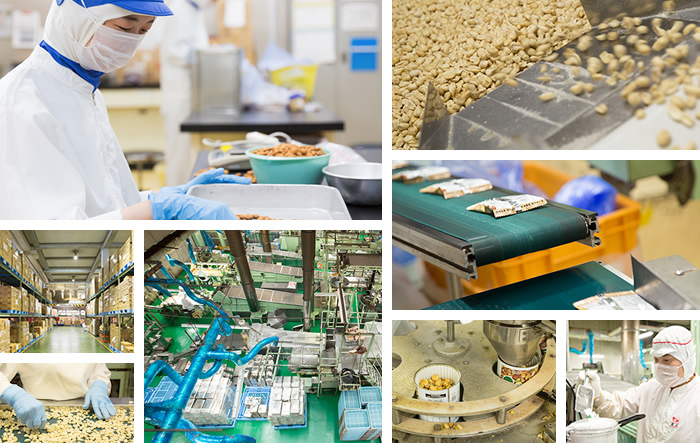 We purchase raw materials (including processed goods) that have been verified to be safe, and for traceability we maintain records of their origin, history, as well as management data from manufacturing processes, etc., in accordance with applicable laws and our own strict internal standards.
We keep things tidy and in order and are thorough in terms of our cleaning, sanitation and discipline. We protect against the incursion of contamination-causing insects and vermin into facilities and the proliferation of pathogenic microorganisms, along with preventing the introduction of toxic or harmful materials, substances, or impurities. Manufacturing facilities and machinery are maintained in a completely sanitary state, maintenance is carried out as appropriate, and improvements are constantly being made to keep sanitation from becoming a mere formality.
We tirelessly strive to innovate and make improvements, and work hard to actively renew equipment and revise systems and structures so that we are able to supply products that are consistently high in quality to our customers.